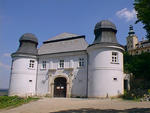 Mentioned in 1293 for the first time, the town of 6,650 lies on the boundary between Moravia and Silesia. Historically, it used to be the seat of the Lords of Kravare and Zerotin. Today, Fulnek is the region's richest place in cultural sights.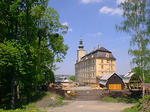 The town became famous thanks to the stay of
Jan Amos Komensky
between 1618 and 1621.
There is a monument (national cultural memorial). There are many buildings in town related to the stay of Komensky, such as the church of the Czech Brethren, the Augustian Church of the Holy Trinity, some other sacred buildings, a square, sculptures, a chateau on the hill (
Upper and Lower Chateau
), resulting from the rebuilding of the original gothic castle.
Opening hours:
| | | |
| --- | --- | --- |
| Â  | April - October | November - March |
| Monday | close | close |
| Tuesday | 09:00 - 16:00 | 09:00 - 16:00 |
| Wednesday | 09:00 - 16:00 | 09:00 - 16:00 |
| Thursday | 09:00 - 16:00 | 09:00 - 16:00 |
| Friday | 09:00 - 16:00 | 09:00 - 16:00 |
| Saturday | 09:00 - 16:00 | close |
| Sunday | 09:00 - 14:00 | 09:00 - 14:00 |