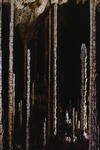 Moravsky kras, Skalni mlyn 96, 678 01 Blansko
tel.: 0506/418 113 fax: 0506/418 114
In the North of Brno, in the Drahanska Highlands, you will find the wonderfull 100 km2 area of Moravian Karst, with typical Karst landscapes: canyons, gorges, about 400 large and small caves, underground streams and dead-end valleys. The main center of the Moravian Karst and the natural gateway into its most attractive parts is Blansko. Throughout the year, visitors can access the Sloupsko-Sosuvske caves, the Balcarka cave, and the Karst's best known features, the Punkva cave and the Macocha gorge. Visitors can experience an unforgettable boat ride on the undergound river Punkva and on the little bridge near the tourist hut they can look down into the botton of the gorge. Thanks to its stalactites, the Moravian Karst is the most visited karst land in the Czech Republic.
The Sloup-sosuvka Caves
These caves are a vast system of corridors and domes on two levels with a height difference of 70 m.
The floors of the caves with favourable climatic conditions is used for speleotheraphy, treatment of diseases of the respiratory tract. Close to the Sloup-Sosuvka caves is the world known archeological site - the cave Kulna (The Shed).
Punkva Caves
The mysterious beauty of the underground world of the Moravian Karst culminates in the complex of Punkva caves which connect Pusty zleb with the Macocha gorge. The trail goes through several domes to the bottom of the Macocha Abyss which is 138.7 m deep. The boat cruise on the 40 m deep underground lakes is an unforgettable experience for visitors. Masaryk's Dome is the final and most beautiful part of the tour.
Catherine Cave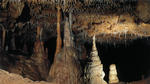 The cave which was opened to the public in 1910 contained a great number of bones of the cave bear and the relict of a settlement of prehistoric man. The entrance to the cave with a high gothic portal leads to the Main Dome which is the largest in the Moravian Karst and has excellent acoustics. The back part of the cave is rich with stalactites dominated by slender stalagmites some 4 m high.
Balcarka Cave
At the eastern edge of the Moravian Karst, in the widest part of the Dry Ravine and not far from Ostrov near the Macocha Abyss, an area of the intricate maze of subterranean passages and vaults of the Balcarka cave has been made accessible. Starting from the entrance cave, inhabited by man as early as in the older Stone Age, other caves were discovered in the years 1923-1936 and have been made open to the public. Their stalactite colorful scenery places them among the most beautiful subterranean parts of the Moravian Karst.