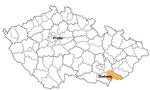 A county seat with 29,000 inhabitants, Hodonin lies in the wine-growing Dolnomoravsky vale, 60 km Southeast of Brno on the border between the Czech and Slovak states.
Hodonin
was founded in about 1030 as part of a fortification against Hungarian raids. During the Hussite wars, the city came under the management of protestant nobles from Kunstat and Lipa.
In the 17
th
and 18
th
centuries, Hodonin suffered several wars, as well as uprisings of the serfs.
After the abolition of serfdom, production in the guild system prevailed. At the end of the 18
th
century,
Hodonin castle was converted to a tobacco factory
. Further development of industry appeared at the end of the 19
th
century, in connection with the North Ferdinand railroad and with the overall expansion of transportation. Hodonin was three times the seat of an economic and ethnographic exhibition.
Tomas Garrigue Masaryk (1850-1937), the first president of Czechoslovakia and a professor of philosophy at Charles University, was born in Hodonin. In 1905, the first meeting between Czech and Slovak political leaders took place here.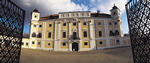 Since 1978, Hodonin has been a spa town as well, especially known for its
iodine mineral spring
.
The region is attractive of wonderfull folk songs, dances and folk costumes. The living folk traditions are various, and in a way different in each village. The character of folklore is kept alive by bigger centres with preserved and developing folk traditions. Well known are vintages, and fairs, as well as a wide variety of costumes and folk traditions.
A symbol of Moravian Slovakia is the activity of
folk song and dance ensambles
, the beauty of folk architecture and also the colourful and rich folk costumes, embroideries and Eastern eggs, figures made of maize straw, woodwork, artifacts made od wicker and straw and also variety and specialities of
folk gastronomy
. Another example of folk art are colour ornaments, which until now decorate village houses or are a part of folk costumes.