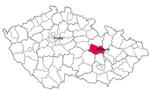 The city of Svitavy has been located at the junction of important business routes since the beginning of its existence. This location is suitable not only from an economic, but also from a touristic, point of view.
The oldest document that mentions Svitavy is a letter from 1256 that resolved a territorial dispute between the Olomouc Bishop Bruno of Schauemburk and the Premonstratensian monastery in Litomysl. At that time, the Svitavy area was transferred to the bishop.
Circa 1266, the bishop of Olomouc invited new settlers to come to Svitavy from Germany, which was at that time overpopulated. These people settled around
the Church of the Visitation to the Virgin Mary
, which was located on the site of today's main square. Therefore the population of Svitavy became dominantly German, in contrast to that of Old Svitavy. In 1389, based on the request of Bishop Nicholas of Reisenburg, the construction of the city walls began. The city fortifications had three gates - the Brno, Upper, and Middle.
From 1425-1484, possession of the city changed hands several times among various noblemen. The last to own Svitavy was Jesek Svojanovsky of Boskovice, from whom the city was purchased by Jan Filipec of the Olomouc Bishopric.
The 16
th
century is sometimes called the
"Golden Age"
of the city, because it gained a number of rights and privileges, developed guilds, established city archives, and constructed a number of artificial lakes. In 1538,
the Svitavy Town Council
purchased a building on the main square in order to create a new city hall.
Unfortunately, disasters subsequently befell the town - plague, fires, and the Thirty Years' War (including plundering by the Swedes in the years 1639, 1640, and 1642). The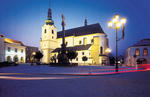 Westphalia peace agreement later enabled the city to enjoy the development of trade and craftsmanship. In 1656, the Olomouc Bishop Leopold Vilém granted the city an annual market fair festival, new privileges, and guild rights, which all became the foundation for development of official craft guilds.
During the seventeenth and eighteenth centuries, Svitavy's prevailing industry was textiles. In 1845, the construction of
the Prague-Brno railway
(passing through Svitavy) was initiated; in 1869, the city gas-works were completed and in 1894, the city's first power station was built. After 1989, the city undertook a new town development plan - since then, the city center has been renovated, other sections of the city were completely reconstructed, and an indoor swimming pool was built. In 1995, the printing plant of
the American firm Westvaco
, Ltd. was put into operation.
Svitavy's location also renders it attractive for tourists. Near the city are the beautiful historic towns of Litomysl and Policka, to the west is the beginning of the Czech-Moravian Highlands, and only a short distance away in the Moravian Karst region.