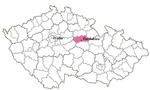 The district town of Pardubice is the home of almost 100,000 people and is the natural provincial capital of Southeast Bohemia. Its role as the economic, administrative, cultural, and social center of the region was gradually established over time.
Pardubice's first settlement probably began at end of the 12
th
century, based upon archaeological discoveries. It was awarded city status between 1332-1340.
The city emblem - the head of a white horse with a golden bridle, displayed on a red field
- was adopted from one of the local noble families.
Until the end of the 1400's, Pardubice was an unimportant tribute town. In 1491, it was purchased by the Moravian noblemam William of Pernstejn, who implemented rapid economic development of the area and established an extensive network of more than 200 lakes that were connected by ingenious artificial canals. He also built Pardubice into a showcase residential town.
Late Gothic buildings
in the town gained facades with impressive artistic decorations. Later, the Pernstejn Family fortified the castle with earthen mounds, stone walls, and a wide moat. The interior was altered from that of an original castle to that of a comfortable chateau, with a decor that corresponded with the social, economic, and political importance of the family. Afterwards, John of Pernstejn rebuilt
the town in the Renaissance style following an extensive fire in 1538.
In 1560, Pardubice was purchased by the Habsburg King Ferdinand I., and during the Thirty Years' War, it proved to be a strong fortress when the Swedes attempted to seize it.
The impulse for new, dynamic growth of the city was the construction of
the Prague - Olomouc railway
in 1845. The food-processing, machinery, and chemical industries began to develop at that time. At the start of the 20
th
century, Pardubice became the center of Czech aviation, and today it houses an army airport with partial civilian operations. The city also traditionally holds several well-known sporting events - since 1874, it has been home to the Great Pardubice Steeplechase, and since 1929, to the international Golden Helmet motorcycle race.
The most important of Pardubice's sights is the unique building that represents a blend between the castle and the chateau and that possesses very valuable Renaissance wall paintings and preserved panelled ceilings. The historic square and adjacent streets, built at the beginning of the sixteenth century, prove Pardubice's former status as a noble residential town. Most of the buildings were reconstructed in the Baroque and Classical styles.