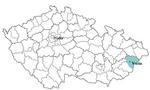 The Vsetin District, which is spread out over the Vsetinska Becva and Roznovska Becva River basins, is dotted with the Beskydy and Javorniky Mountains and the Vsetinske Hills. More than half of this area is covered by thick forests, and the northeast part of the district is a part of the protected Beskydy Nature Reserve. The district occupies an area of 1,143 kilometers
2
and has 147,000 people.
The Vsetin District offers extensive opportunities for both winter and summer tourism, and in addition to recreation, has a number of interesting cultural and historic monuments, located both in cities and in the countryside (in the latter, in the form of folk architecture). The district's landscape has not been damaged by industry, and therefore, is suitable for both sports and relaxation.
Today the city of Vsetin has 30,000 people and is the administrative center of the district. Its historic character has been maintained in the Upper Town, where one may find the castle,
parish Church of the Virgin Mary
, former noble court, and the Mastaliskama Tavern. The Lower Town was created later, and includes the City Municipal Office, the shopping center, banks and hotels. The city is a base for tourists heading to the Vsetinske and Hostynske Hills and to the Javorniky Mountains.
The chateau of Vsetin, which was originally built in the Renaissance style and later reconstructed several times, today possesses the Classical architectural style. It is now the location of
the local history museum
, which contains both history and ethnography exhibits.
Tourists are recommended to visit some of the other beautiful cities in this area. One is Valasske Mezirici - sometimes called
"Wallachian Athens"
- which today has 28,000 inhabitants and is situated at the confluence of the Vsetinska Becva and Roznovska Becva Rivers. Among Wallachian towns, it has the greatest number of historic landmarks and its center has maintained a Renaissance and Baroque character. Of its monuments, we should mention Zerotinsky Castle and the parish Church of the Ascension of the Virgin Mary, and also the Church of the Trinity and the town hall in Krasno. The chateau in Valasske Mezirici was built in the sixteenth century, and for a long time was the headquarters of the Zerotin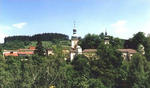 family. It became a women's prison in the 19
th
century, and Marysa, famous from the play by the Mrstik Brothers, was supposedly imprisoned here.
The most important tourist center in Wallachia is Roznov pod Radhostem. Its main draw is
the Wallachian Open Air Museum
, which annually presents a number of performances by folk groups, as well as other events such as old-time markets, trade days, the Wallachian Harvest, Christmas carols, etc. The Open Air Museum is comprised of a number of structures built with wooden pegs that are spread out in the villages of Roznov pod Radhostem, the "Wooden City," the "Wallachian Village," and the "Mill Valley." The museum was founded by Bouhumil Jaronek in 1925.