The 33,000 inhabitant strong district centre of developed textile, engineering, power generating and furrier industries spreads across a picturesque valley along the Upa River with some suburbs climbing up as high as 427 m to the heights around. The climate is rather rough with average temperature throughout the year reaching only the modest 6.8 °C. The rich past of the once dowry town of Bohemian Queens, now a sought for tourist base for trips to the Giant Mountains and the highest peak of Snezka (1,603 m), is testified by many cultural and natural landmarks. The tale of how Trutnov had been founded in the 11
th
century and of clashes with the dragon of the rocks fought by Knight Trut inspired
Mikolas Ales's lunette painted
in the foyer of the Prague National Theatre and is present on the town's seals and coat-of-arms displayed on several important buildings.
The predecessor of Trutnov, first mentioned in writing in 1260, was Upa, a Slavonic settlement, which was renamed to Trutnov by the Silesian colonists towards the end of the 13
th
century. Surrounded by town walls til the mid-l9th century, the historical core centres around the circus. Most houses show features of the late baroque, Empire and classical styles.
No. 38, Slezska Street and the old town hall which had stood in the middle of the circus until the 1583 fire, represent the Renaissance. Its grafitti adornments by Valmadi date back to 1591. The town hall was repaired during the 1980's vast reconstruction project. The present town hall architecture is neo-Gothic and dates back to 1861 when 281 houses of the inner town were consumed by the destructive fire. Other sights found in the circus are the Giant's Fountain (Krakonosova kasna) from 1892; no. 69 where Uffo Horn, a Czech-German poet, was born; and the baroque Most Holy Trinity Post of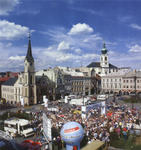 1704. A tablet for 27 June, 1866, embedded in the plaster of the circus's south-western end, reminds of the Prussian-Austrian war.
The Pacak brothers are authors of the 1728
baroque group of St John of Pomuk
(facing the postoffice) and of the Holy Family ornamental sculpture from 1730. You can find the latter between
the baroque Church of Virgin Mary's Birth
from 1782 and the former castle which was converted to school in the middle of the 19
th
century and today houses the Museum of the Giant Mountains Piedmont. Among others, you can see an exhibition of the 1866 battle of Trutnov here. There were fights on the slopes of the Jansky Hill topped by the St John the Baptist's Chapel since 1712 (with many soldier tombstones around), and on the Sibenik topped by the monumental General Gablenz Memorial from 1868. Trutnov is a green town, with almost 40 m
2
. of green per capita. Established in 1890, the town park is a 50 hectares
large botanical gem
and very close to the centre.
To complete the picture, we must mention Dolce, a mild recreation area abounding with forests and ponds, and a sports area with winter stadium and baths. The Upper Old Town is Trutnov's traditional textile district.
St. Wenceslas's Church
harbours a unique piece of carving art, the polychrome epitaph of the royal wood-reeve Nuss's family from 1606. Porici, the industrial suburb (dominated mainly by the high stacks of the heat and power station), has also some historical sights: the military cemetery from 1866, and
the neo-Gothic St. Peter and Paul's Church
from 1903. Trutnov is a nice place to see and the economic and cultural centre of the Giant Mountains Piedmont.