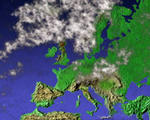 The Czech Republic is located on the borderline between two great climatic regimes, the oceanic and the continental, and the weather consequently tends to be fairly variable in different regions. The average annual temperature ranges between 5.5°C (42°F ) and 10°C (50°F ), but temperatures are lower in the mountains. The average annual rainfall is 693 mm (27 inches).
The normal summer temperature varies between 23°C (73°F) and 29°C (84°F), and the normal winter temperature varies between -11°C (12°F) and 0°C (32°F).
The country's mountain ranges to the west catch the clouds generated by the Atlantic there fore rainfall here is quite high; the compensation is a reasonably reliable cover of snow, with the highest peak in the giant mountains, Snezka, having an annual average snowfall of 130 days. This creates ideal skiing conditions and many Germans cross the border into the Czech Republic to take advantage of the lower costs in resorts and facilities. The interior of the country, particularly the lowlands around Prague and the lower Labe river and southern Moravia, has a much lower rainfall and higher temperatures, generally with warm or hot summers interrupted by thunderstorms.
Winter days and nights can be cold
and temperature
inversions are common, with unpleasant conditions arising when air pollutants are trapped.
Another area, which has been badly affected in this way, is the north Bohemian brown coal basin, where the contaminants produced by linnet-fired power station create dangerous levels of air pollution if they are not dispersed by wind. Short days and the closure of many provincial museums and historic buildings are a deterrent to touring the countryside in winter, but the cultural life of cities flourishes at this time and therefore accommodation is much easier to come by.
Spring can be late in starting
, but when it arrives parts of the countryside are carpeted with blossom from the fruit trees. In the summer months Prague in particular fills to the brim with foreign tourists and there is a less choice of accommodation.
Actual weather resources:
CNN weather forecast, Wunderground forecast - Prague