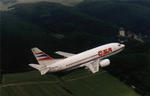 Select your mean of transport and follow the links below. For more information how to get to the Czech Republic and how to find our office in Prague go to
How to find us
.
By plane:
There is one Czech air-company to travel to the Czech Republic with, called the Czech Airlines (CSA). It is possible to fly from most of the world's cities. Other world's air-companies fly to the Czech Republic too, e.g. British Airways, British Midland, KLM, Air France, Lufthansa, Alitalia or El Al Israel Airlines.
The main airport is in Prague - Ruzyne, other smaller ones are in Pardubice, Brno and Ostrava. Buying tickets in the Czech republic won't save you much money, so if you are only going there, take advantage of the lower cost of a return ticket bought at home.
By train:
Trains travel daily to Prague from most major European cities. There are comfortable International trains signed "IC" (Intercity) or "EC" (Eurocity). They go e.g. from Bonn, Frankfurt am Main, Vienna or Warsaw. The international railway stations are Prague Main Railway Station (Hlavni nadrazi) and Prague Holesovice.
By coach:
Going by coach is the cheapest way to get to the Czech Republic. Kingscourt Expres operate a direct service from London to Prague which runs daily except Mondays in summer and three times a week in winter. It takes approximately twenty hours and arrives at Prague's main bus terminal - Florenc. The other, Eurolines also run coaches to Prague, departing from London.
By car:

The Czech republic is covered by a network of generally good roads, though them old routes often follow through villages and small towns. There are some 500 km of European-style motorways, the main ones being the D1 or E50/E65 between Prague and Brno. Motorways and country roads tend to have light traffic. The quickest way of taking your car over to the continent is to drive to the Channel Tunnel. The most direct route from Calais to Prague is via Lille, Brussels, Cologne, Frankfurt and Nuremberg, entering the Czech republic at the Waidhaus - Rozvadov border crossing - a distance of over 1000 km.
As in the rest of Continental Europe, you drive on the right-hand side of the road. The legal driving age is 18. The speed limits in built-up areas is 50 km/h, on major roads the limit is 90 km/h, and on motorways 130 km/h. Children under 12 years old mustn't sit in the front seat.
Drivers from the USA, Canada, UK, Australia and New Zealand need no international driving permit, only a full domestic license, along with the vehicle registration. You'll also need a certificate of insurance or "green card", normally valid for three months, showing you carry full liability insurance. Your car must carry a first-aid kit and a red-and-white warning triangle.