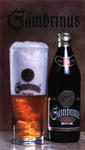 The most famous Czech drink is beer (pivo). A half-litter glass is often cheaper than a Coke or cup of coffee. The
best-known Czech beer is Pilsner
. Its name is derived from a town in western Bohemia called Plzen (Pilsen in German). Usually each pub is supplied by a single brewery. It means only one brand of beer is available, but several types might be on offer. The usual type is draught light beer (svetle) allthough a number of beer halls serve special strong dark lagers (tmave).
If you would like to taste an original Czech liqueur, order Becherovka. It is a bitter-sweet, yellow herbal drink. It can be served both as an aperitif and a liqueur or diluted with tonic.
No one knows for sure when the first wine was cultivated in Southern Moravia - perhaps in Roman times. But it was the beginning of a tradition which still prospers today. From Riesling grown around Mikulov and Palava Hills, Frankovka

around Velke Pavlovice to Znojmo's renowned Sauvignon variety, wine is to Moravia as hops and brewing are to Bohemia.
Czechs prefer to do their beer-drinking in pubs rather than at home. Drinking beer is an opportunity to meet with friends. The milieu in pubs and country inns is gregarious, the discussion are forthright. The subjects can be anything under the sun: football, ice-hockey, politics and women. Draught beer is normally served in half-liter glass mugs. There's light-coloured (svetle) beer, which comes in ten-degree and twelve-degree varieties, and has more of a bitter flavor. Then there's also ten-degree dark (tmave), or black (cerne) beer, which is generally sweeter. Light beer is more popular, although dark beer is gaining ground. For those watching their figure, there are even diet (dia) varieties of both
light and dark beer
, which are lower in sugar and alcohol. Beer is usually available in bottles rather than in cans. Bottles of beer have too long a tradition for Czechs to be replaced by cans easily. Canned Czech beers are available, but are mostly just for the consumption of foreign tourists.
South bohemian Beer Paths
- invitation to South Bohemia and come and taste delicious beer and learn about its production in several significant breweries
Staropramen Breweries website
Staropramen Brewery Visitor Center
- full information about visiting old Prague brewery including degustation