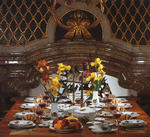 Everything connected with gastronomy is a welcome topic in the Czech Republic. Today even a true gourmet can choose from a wide variety of eating places: famous restaurants offering international cuisine, typical Czech wine bars and traditional beer pubs. Lovers of good food and drink are increasingly seeking out restaurants located in attractive environments.
Since time immemorial the typical Czech meal has consisted of
pork, dumplings and sauerkraut
or cabbage. Sweet dishes, such as pancakes and strudel are also very important. In many regions, restaurants offer local specialities, which are particularly interesting for visitors.
Almost no one should pass up the chance to taste Czech beer. It has been brewed here since before the discovered of America, and has gradually become the national drink. Each of several dozen breweries offers its own unique version of the foamy nectar. Among the best known are
Pilsner Urquell, Prague Staropramen
and the genuine
Budweiser
from Ceske Budejovice.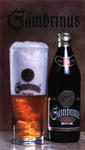 South Moravia is the land of wine. A visit to one of the region's many wines cellars are an occasion for colorful festivals.
The Czech cuisine is rich in meat, most usually served with dumplings or potatoes. Among the most common meals are various kinds of goulash, beef with special cream sauce (svickova) or other sauces with various flavors (dill, tomato, etc.)
The real Czech specialty, dumplings filled with fruit
, are not often included on the menus of most restaurants. In the centers of big cities, even the lower grade restaurants serve select meals from international cuisine including fish and poultry meals. Venison is popular, too.
Czech beer is one of the best in the world (Pilsen, Budvar and Velkopopovicke beer are among the finest). Excellent wine is produced in South Moravia and the Bohemian regions around Zernoseky and Roudnice. A rather unique drink is the Czech herb liqueur,
Becherovka
. In central Moravia, in the area around Vizovice,
plum brandy
(slivovice) is very popular. It contains up to 90% alcohol.
Brewery Cerna Hora
- excursion of an original Moravien brewery founded 500 years ago