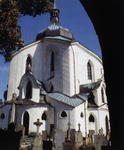 The Czech Republic is not a large country but, however small, it has a rich and eventful history. People have been living here for centuries and millennia, cultivating their land, working and creating things which still command our respect today. The people who have inhabited the Czech Lands, in accord and in discord, and who included Czechs, Germans, Jews, as well as Italian stonemasons and stuccoworkers, French tradesmen and deserters of Napoleon's army, Irish doctors and eastern Europeans fleeing the Bolsheviks, have all left behind hundreds of chateaux, castles and monasteries, and even entire towns that are regarded as works of art.
Historic Centre of Prague,
Historic Centre of Cesky Krumlov,
Historic Centre of Telc,
Pilgrimage Church of St. John of Nepomuk at Zelena Hora in Zdar nad Sazavou,
Kutna Hora - the Historical Town Centre with the Church of Saint Barbara and the Cathedral of our Lady at Sedlec
Lednice - Valtice Cultural Landscape,
Gardens and Castle at Kromeriz,
Holasovice Historical Village Reservation,
Litomysl Castle,
Holy Trinity Column in Olomouc,
Tugendhat Villa in Brno

have all been included on
the UNESCO World Natural and Cultural Heritage List
.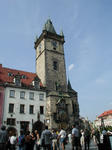 The fact that the Czech Republic has several sites that are regarded as having worldwide significance is at the same time a source of satisfaction and a challenge, for the distinction by UNESCO inspires us to cultivate and preserve our towns as centres of culture and conferences, and to treat them with due respect.
The beauty into which Prague has evolved in the course of the past eleven centuries, the narrow zigzagging medieval streets in Kutna Hora and Cesky Krumlov, the Renaissance houses in 'white' Telc and the very original sites that are the pilgrimage church in Zdar nad Sazavou, the Lednice-Valtice complex, Kromeriz, and Holasovice are a fairy-tale collection of artistic and historical values that help widen the horizons of every visitor. Whether you arrive in search of knowledge or entertainment, you are certain to find here what you were looking for and will doubtless agree that the Czech Republic merits a place on the map of the world's major cultural sites.
We have some more detailed information about
UNESCO cities
in our regional pages.